Product Set-Up: Cut & Sew T-shirts
So you want to take advantage of all that sweet sweet real estate a t-shirt provides with all-over prints? Good! Then Cut & Sew all-over print apparel is just the thing for your Artist Shop! With Cut & Sew, you can use the entire area of the garment as your canvas.
How does Cut & Sew work?
Cut & Sew apparel is printed using Dye Sublimation, which prints your artwork onto a sheet of high-release paper and transferred onto the t-shirt fabric using heat and pressure. The heat converts the solid dye particles into a gas—known as sublimation—and bonds them to the fibers. Unlike screen or other digital printing, the dye is absorbed by the fabric for a softer feel. The graphic is printed vibrantly with eco-friendly inks that are designed to last for years without fading in the wash.
Once the image is printed on the ultra-soft fabric, it is then individually sewn together to ensure a flawless graphic that is printed on every part of the garment and a comfortable fit. All sewing and construction are done in the USA.
About Cut & Sew Tees
The Cut & Sew T-shirt is 95% Premium Polyester/ 5% Spandex and the French Terry Cut & Sew T-shirt is 85% Premium Polyester / 10% Rayon / 5% Spandex for soft comfort and serious quality. Designed with the look and feel of organic cotton, the casual Cut & Sew tee styles feature advanced poly-performance fibers for ultimate wickability and top-notch coolness. Cut & Sew tees are printed and sewn in USA. Cut & Sew tees are available in Unisex sizes from XS to 4XL. Because these items are handmade each order, order processing time requires 7 Business Days before it is shipped.
Designed & Engineered in California
Handcrafted by Skilled Artisans
100% Premium Polyester
High Definition Graphic
Artwork on Front & Back
Setting up your Cut & Sew Design files
To get started here is some information for creating your print file:
All Cut & Sew t-shirts require the Cut & Sew Print File Template- Download Template Here
Your art file needs to be 60.253" wide x 54.32" high ( 9038 x 8148 px) to accommodate the largest print area.
The recommended file type is .jpg.
RBG color mode and 150 DPI.
Tileable patterns or repeating designs are the easiest to work with.
The neck taping will always be black.
All cuts may have around a 1" margin of error, so the material can show more or less of the design shown in the template.
Only one art file is required to add each size of the Cut & Sew tees. The design will be scaled based on garment size and style as you can see with the XS blue line and the 4XL orange line below.
While the file should be set up for the largest garment, you'll be able to see how the design fits in the smallest size as well. If your art file is a single image designed to be shown in the center of the garment, consider how the design will be sized on the smallest template and add as much padding as possible.
The tee is assembled from five sections but has seven printable areas for designs.
The tee body has a front and back panel that can have different design elements.
Each sleeve is a single panel with a front and back section.
Favorite Things from our Example Shop
Cut & Sew Design Possibilities
Don't just stop at a there are a whole host of eye-catching ways to use this style.
All-Over Repeating Pattern
Your all-over pattern could be zebra print, tie-dye, plaid, polka dots, camouflage, or even paisley. These are all stylish patterns that have stood the test of time. Remix one of these tried-and-true classics, or create an entirely new pattern of your own. Don't forget about power clashing by mixing patterns together and using bold colors.
Left-Chest Logo and Full-Back Print
This is a classic print style you've seen before, no question. Lifestyle brands use it. Fashion brands use it. Even bands use it for their merchandise. The small left-chest print is the perfect spot for a logo or emblem. Meanwhile, the back of the shirt gives you plenty of real estate to showcase your best work.
Contrasting Collar and Sleeves
Similar to a ringer t-shirt, this throwback style harks back to fashions of the '70s and '80s. In addition to giving off retro vibes, a contrasting collar, and sleeves direct eyes toward the center of the t-shirt. This is a great spot for one of your most popular designs.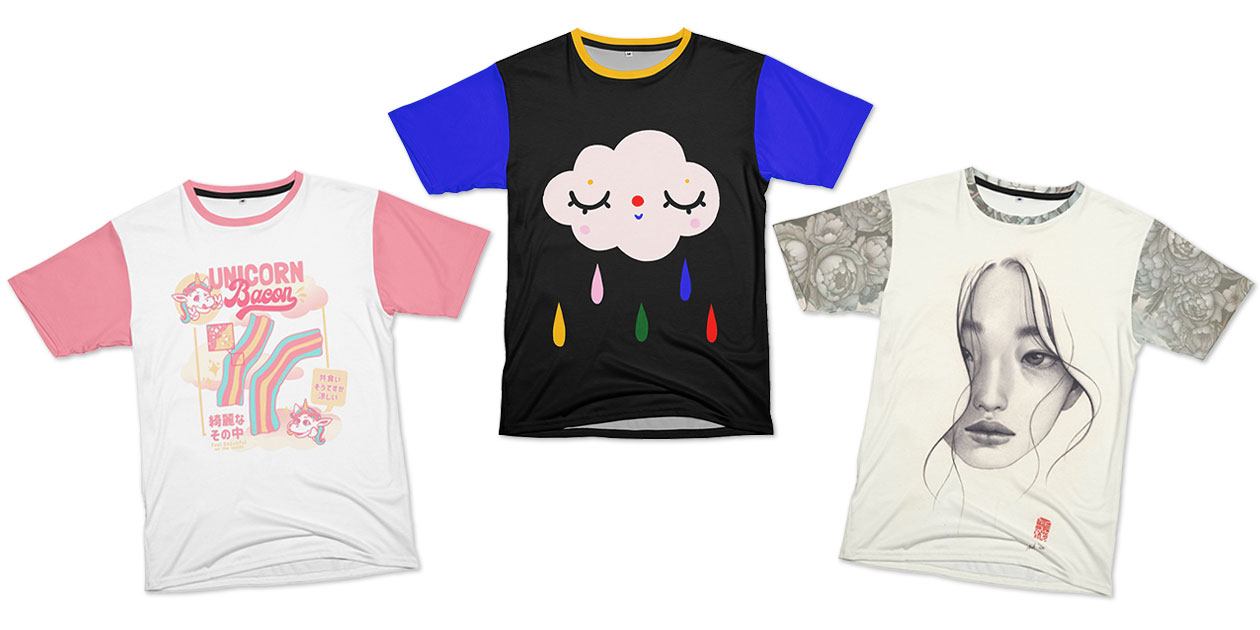 Sleeve Graphics for Extra Flair
The sleeves on the Cut & Sew T-Shirt offer you an additional place for logos and other imagery. These complementary graphics can add a little flair to an otherwise basic shirt design with a standard chest print.
Wrap-Around Graphics
As we previously mentioned, you can put graphics anywhere on the Cut & Sew T-Shirt. This means you can create a design that wraps around the entire body of the shirt, uninterrupted. For example, FWMJ!'s "Black Sea" design shows a water scene that connects in an infinite loop around the shirt.
Low/Ribcage Graphics
Generally speaking, most t-shirt prints you see appear on the front and center of the chest. Creating a print design that instead stretches from the bottom hem to the ribcage automatically makes your Cut & Sew T-Shirt stand out from the rest. Plus, this type of large-scale graphic looks pretty damn cool.
Adding Cut and Sew Design Files
Once your files are ready for uploading, add your files in the "Add Cut & Sew" section in the Add Product section of your Artist Dashboard. Select from Mens T-shirt, Mens French Terry, Womens Unisex T-shirt, and Womens Unisex French Terry T-shirt. If this is a new product, be sure to also add your Primary Image, Product Title, and Background Color. Hit 'Create Products' to add your new Cut & Sew products to your Artist Shop.
PRO-TIP: You can easily add Cut & Sew tees to any existing design from the Products overview page of your dashboard. Simply flip the toggle to Active to add your custom Cut & Sew file. Once a file is uploaded, you can toggle on both the Womens unisex and other styles.